Big Blog
Detailed Softball Articles & Information
If you're anything like me, you probably haven't missed many of your daughter's games. I was fortunate to have flexible jobs that allowed this to be possible. I did what I had to to make it work including going in early, staying late and burning every ounce of time off I had. I even took unpaid time off during her final 2 years of travel softball and the end of the recruiting process.
Crazy, right? Oh I'm sure you can relate. You know how much the game means to your daughter. The hours of practice with the team, all the days in between that she works on her skills, the lessons, keeping up with her studies, the other sports she's involved in and her social life. She's a busy girl who wants to succeed more than anything and you know this.
Read more: What it's Like to be the Parent of a College Softball Player
***Note*** This article was edited & republished on 7/22/2015. Feel free to contact me with your questions.
The travel softball tryouts "season" can be a stressful, political and confusing time of year. You're daughter has approximately a 3 weekend window to make a team for the next year. And the drama often builds the closer you get to the end of the summer season. I've been through this several times in two sports (travel soccer too) with two daughters. It's something as a parent you just want to be over with as soon as possible.
This time of year I am frequently asked for advice concerning tryouts. I was looking at the local forums on Mlive.com, which in the state of Michigan is a widely used resource for travel softball clubs, teams, coaches, parents and players. There's a Youth Softball forum and High School Softball forum. Both are filled with posts from clubs/teams this time of year with their tryout dates and information. I saw many of the same questions I've been getting asked personally, so I thought I would post this article to try to help you with the process. Feel free to contact me if you have questions over something not included in this article.
These costs almost always dwarf the team fees.
Read more: Travel Softball Tryouts - Common Questions & Answers
Happy Mothers Day
It's been ten years since my mom passed away. Every year on this day I watch the video I made from hundreds of pictures of her life over the years. I also read the eulogy I wrote and gave at her funeral. It was one of the hardest things I've ever had to do in my life. Public speaking is easy for me. It was the finality of a long good bye that was difficult.
It was my mother who taught me about life, gave my praise and encouraged me to chase my dreams.
Competition is defined on dictionary.com as the rivalry between two or more persons or groups for an object desired in common, usually resulting in a victor and a loser but not necessarily involving the destruction of the latter.
Defining competition specifically in softball terms:
Softball Player: To strive to outdo another player for a spot on a team or starting position.
Softball Team: To strive to win a game.
The key words in those definitions are, "To strive," which is the act of competing. To compete in softball is to knowingly take the risk of being cut, not earning a starting position or of losing games. Players and teams are attempting to out-perform each other.
Beyond the fields our lives are full of competition.
Relating A Good Book to Softball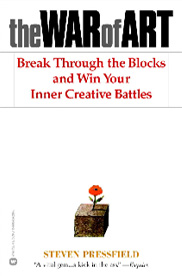 I recently read The War of Art, a book by Steven Pressfield. He wrote about his early years while aspiring to become an author. He had been struggling mightily to complete his manuscript that he hoped would finally make his dream of becoming a published author a reality. He had previously written manuscripts that were 90-95% finished, one that he spent nearly every day for two years working on, only to throw them into the trash before they were finished. He did so because he thought they were not good enough and did not want the publishers to disregard his future work.
He met another writer who had several published books that would become his mentor. One of the key points he learned was that he had to make himself sit down most every day and write, regardless of how he felt or if he was suffering from writers block, he needed to sit down and produce something. He also learned that he needed to write for himself, not what he thought somebody else would want to read. Lastly, he had to learn how to finish his work and submit it to the publisher.
The help you'll give her is not about softball. It's about all the other dreams she'll have the rest of her life.